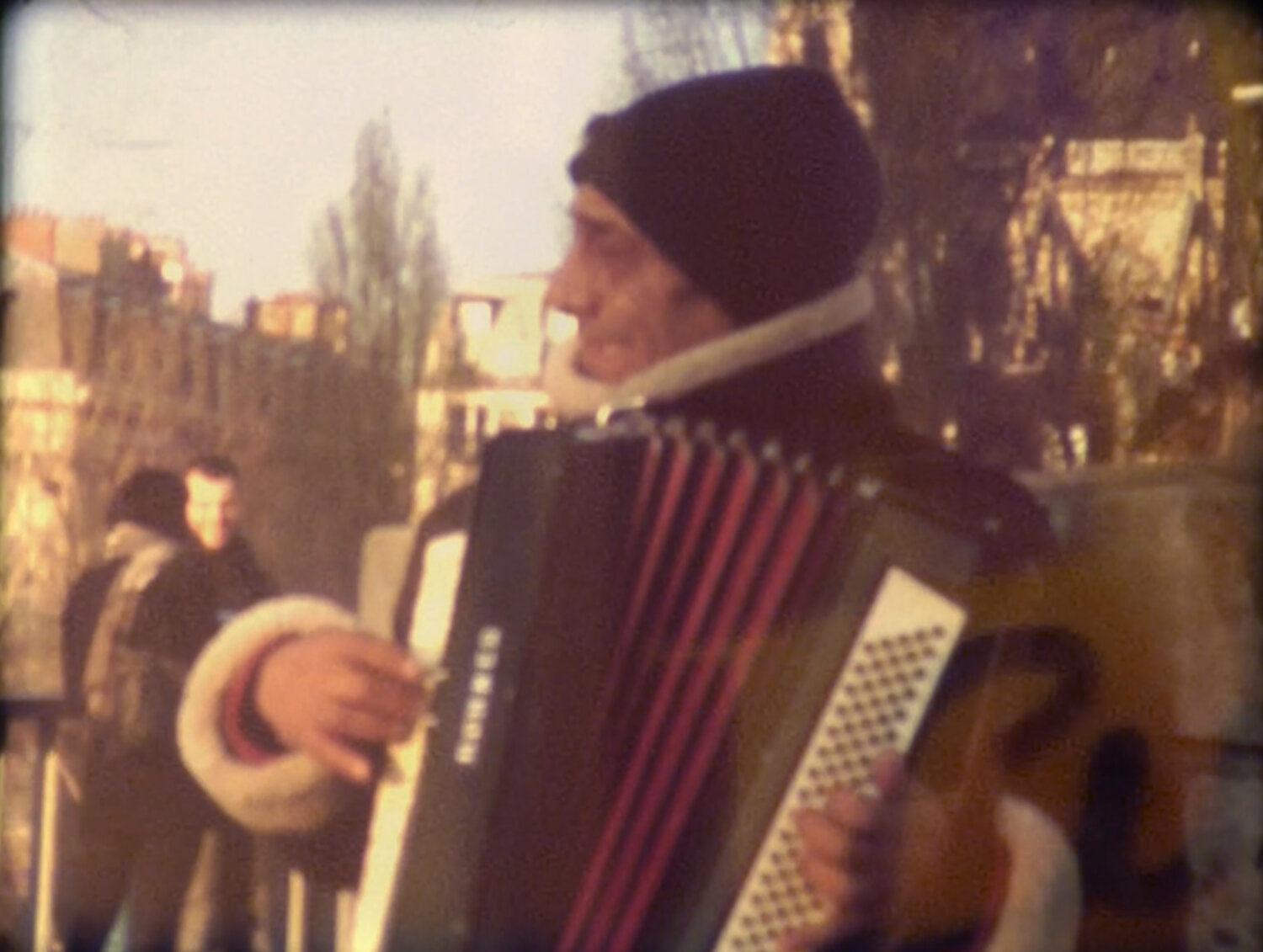 Dan Anderson (Grand Rapids, MN) is a filmmaker and installation artist. His interest in film began as a student at Grand Rapids High School, and he began hosting regular "Film Nights" at the MacRostie Art Center between 1999-2001. He earned a BFA in Film Studies from the University of Colorado in 2005 and an MFA in Electronic Integrated Arts from Alfred University (NY) in 2015. His current exhibit "Concepts of Self" is a collection of documentary, narrative and experimental works, both new and retrospective.
Cameron Zebrun (Minneapolis, MN) is a multi-media artist whose artwork reflects his interest landscapes and how they are transformed by natural forces. "Atlas" explores his fascination with the systems humans invent to study and interrupt, catalog, and harness forces of nature. The visual languages of cartography, meteorology, and science are major devices in his stand-alone multi-medium pieces.
The 27th Annual Juried Art Exhibition featured a collection of local and regional artworks juried by Sam Baardman. This juried exhibition was open to artists of any medium who are from Minnesota, Wisconsin, North and South Dakota.
Sam Baardman (Winnipeg, Manitoba, CA) is a photographer and musician whose work investigates the bonds between human and nature, and the historical, mythical, political, and economic relationships we have with water.. In "Immersion," Baardman explores his personal relationship with water, and his journey to healing from his own encounters with the water.
This exhibit celebrates the 35-year teaching career of Meg Ojala, Professor of Art at St. Olaf College, with a body of new work – a photographic exploration of bogs and fens. This exhibition is a meandering visual and poetic search through ecologically crucial peatlands in Finland, Ireland, and Minnesota. The installation of photographs, text, and prints of these captivating ecosystems envelops the viewer in their paradoxes and unfathomability.
Athena LaTocha, born in Anchorage, Alaska, and currently living in Brooklyn, NY, is an artist whose monumental works on paper explore the tenuous relationship between man-made and natural landscapes. As MacRostie Art Center's inaugural Visiting Artist, LaTocha will be creating a site specific installation using iron spatter and influenced by the intersection of landscape and industry on the Iron Range.
Tracy Krumm (St. Paul, MN) is a studio artist working in metal textiles, forged steel, found materials, pigments, fiber, resin. She is a McKnight Visual Arts fellow, and art educator. Her work integrates hand-constructed textile processes with found materials and forged steel to comment on labor, identity, human connectivity, and cultural production. Her current work investigates the intersection of creative experience, simultaneous occurrence, and transformation. The manipulation of form through low tech and high tech processes, along with explorations in material studies, are at the core of her research.
"A Common Thread" is an Itasca area fiber art collective of accomplished artists who gather together to represent the diverse scope of form and techniques that fiber art encompasses. Their newest exhibition, Fiber Jungle, reflects each artist's newest creative explorations related to the theme including a co-created work by the group. As the featured artist of the collective, Diane Rutherford presented her latest batik works referencing lunar cycles.
Austin (Gettysburg, PA) is originally from Rathdrum, Idaho and was educated in the Northwest. He is a figurative painter interested in contemporary narratives in which human need, desire, and its exploitation are interwoven. "Levitate/Gravitate" is a series of life-scale portraits painted in watercolor. These works discuss the human experience, through an exploration of visual cues that suggest floatation. Individuals portrayed in these paintings appear to be experiencing types of liberation from the most basic constraint, the reality of gravity. While these depictions often seem uplifting, they also suggest a dichotomy between freedom and constraint.
In May, the MacRostie Art Center's Minnesota Gallery was be filled with miniature-sized artworks from more than 50 artists. The artworks were no larger than 12 inches in any dimension and priced at no more than $100. Mediums included ceramic art, sculpture, textile art, collage, watercolor, acrylic and oil paint, drawing, photography and more. Lea Friesen was our 2019 featured artist. Her collection "Human is Human" invited us to reconnect with our humanity through a diverse collection of intimate portraits.
The annual exhibition, Six McKnight Artists, features new work by 2017 McKnight Artist Fellowship for Ceramic Artists recipients Xilam Balam Ybarra (St. Paul, Minnesota) and Mic Stowell (Minneapolis, Minnesota), as well as 2016 McKnight Artist Residency for Ceramic Artists recipients Kosmas Ballis (Florida), Eva Kwong (Ohio), Forrest Lesch-Middelton (California) and Anthony Stellaccio (Maryland). This exhibition supported by the McKnight Foundation and Northern Clay Center, showcases the success of each artist's fellowship or residency.
Vernal Bogren Swift (Bovey, MN) is a batik artist and storyteller who travels frequently to a Pacific Island. She learned her craft in Indonesia but the work is clearly her own now. Inspired by the odd movements of humans, animals, and tectonic plates, Vernal associates behavior with place. A dye palette gained from tree barks, vegetable rinds, and indigo was developed over many decades. These warm permanent colors identify her batik stories and convey how these stories connect to current social and personal events.
Andy Messerschmidt's March show "Agroccult" consisted of a body of over 800 paintings. This collection involved landscape paintings depicting the fetishization of Earth and the scars this has left upon the planet's soil. These scars are now venerated and shown off like battle scars or allegorical tattoos.
Mary Beth Magyar's exhibit "Analogous" included a collection of her works in ceramic, metal and wax. The exhibit consisted of fifteen to twenty ceramic hives. The hives were smoke treated and had varying textures. Each hive was hand-built and unique to its counterparts. The exhibit was designed to promote environmental consciousness and emphasize the critical role bees play in Earthly life. Rituals and cycles have been central to Magyar's work, as she used smoke and organic materials in various stages of decay to pair the rituality and cyclical nature of death.
Working with a variety of mediums such as drawing, photography, and printmaking, Susanna Gaunt (Duluth, MN) uses her exhibit "Reconfigure" to analyze the human condition through a philosophical and scientific lens. A recent graduate from the University of Minnesota - Duluth, Susanna received a BFA in Studio Art, with an emphasis in Painting, Drawing and Printmaking. She also holds a BA degree in Philosophy from Boston College.
Naomi Hart (St. Cloud, MN) grew up in the northern wilds of Minnesota where the natural world became her education and her refuge. Hart uses symbolism from nature to tell the story of humanity in a manner that bears witness to the connective threads we share. While dark and introspective, Hart's work in "Intimate Voodoo: Matters of Heart" maintains a sense of hopeful wonder and joy. The viewer is quickly pulled into the story and the many layers within each piece.
Saulaman Schlegel (Minneapolis, MN) is a multidisciplinary artist. Their work explores themes of gender, objectification of the artist, the object, and the body. The work reckons with history, up-bringing, and the challenges of the artist in relationship to ideologies that place emphasis on normalized behavior. Saul's current work seeks to create a space where visitors may enter into dialogue and activity aimed to stir questions about gender norms and to offer new lenses through which to view these questions. Their exhibit "Inter/Veil" includes an interactive installation, performance, and resulting artifacts/art-objects.
Ralph Hanggi Jr. (Deer River, MN) will be exhibiting his "Business as Virtue-Tondo" series, otherwise known as "Busyness." This series includes a collection of his 4ft acrylic works on circular canvas as well as works on paper and smaller works on canvas. Ralph Hanggi Jr. carves and sands his own canvases by hand in his studio, and uses them to generate "tenants", or concentrated dialogues on fundamental concepts in art, such as hard edges, shape motifs, color combinations, and linear passages. In artfully documenting and presenting these discussions, Ralph Hanggi Jr. reaches full activation of the picture plane on his canvases. Each tenant in "Busyness" reflects Hanggi Jr.'s extensive educational and artistic background. He has exhibited across the country as a painter, and has been actively producing work and teaching art since 1976.
In this exhibition, Alison Aune shared her densely patterned and colorful mixed media paintings inspired by Nordic textiles, designs, and symbols. She created these works to honor her Minnesota-Swedish-Norwegian forbearers and other artists in aprons. In this way, she is working within the framework of a feminist aesthetic—honoring women's contributions to folk art by reviving and reinterpreting traditional designs into a contemporary context.
The Northern Spirit Shop: Holiday Marketplace
Starting the day after Thanksgiving and continuing through the month of December, the MacRostie Gallery is transformed into a holiday marketplace. This annual exhibition celebrates the diverse and talented artists that live and work in northern Minnesota. It's also an opportunity for MAC members and patrons to find unique, handmade gifts during the holiday season and make purchases that support both local artists and MacRostie Art Center.
Peter Gordienko (Swatara, MN) is a self-taught artist who has recently released his first novel. Gordienko's novel, "Hobos of Honey Town" takes the reader on a surrealistic journey through the trials, hopes, and human nature of a large American city of a long-ago era. His exhibit will use 54 vibrant paintings to reflect the story within his novel as well as the stories of individual characters he has met over the course of writing this exciting epic. Read more about Gordienko's novel, and purchase the ebook by clicking here!
David Brian Dobbs (Grand Rapids, MN) is an artist working across all mediums. He received his BFA and MFA from the University of Minnesota - Twin Cities in Painting. In his show "Intertranslations," each painting is a pixelated screenshot of American cinematic culture. Dobbs uses his paintings as "historical objects" to provide a critical lens through which to view history and how digital technology has transformed our paths to the present- as it continues to shape our future.
Douglas Ross (Minneapolis, MN) earned his BA in History from Carleton College in Northfield, MN. He went on to Minneapolis College of Art and Design to earn his MFA. Over the years, Ross has been inspired by the beauty of Northern Minnesota. He has had his landscape works featured in nearly 280 exhibitions since 1962, and continued this tradition by displaying his paintings of the Iron Range at MacRostie Art Center in October of 2018.
Linda Snouffer, Nancy Stalnaker Bundy, & David Luke
Three different artists explored environmental impact in this group show, titled "Earthly Concerns." David Luke used photography and digital manipulation to make visible the imminent ecological transformations in Minnesota's northern boreal forests due to climate change. Linda Snouffer's interpretive printmaking captured the grass movement of prairie scenes and created forest scenes with grasses melding into trees and back into prairie again. Nancy Stalnaker Bundy's photography included architectural remnants and artifacts from former mines as well as their surrounding landscapes. As a group, the works examined the juxtaposition between the protected and the vulnerable, the comfortable and the violent, the relaxed and the analytical.
For over 10 years, MacRostie Art Center has partnered with Itasca Life Options, an organization serving adults with developmental disabilities in the Itasca County area, to deliver weekly art classes in the MAC's studios. In 2018, thanks to a grant from the Minnesota State Arts Board, MAC and ILO expanded their partnership to include more classes and community art events. This exhibit, titled "In All Directions" showcased the results of the new directions explored by the Itasca Life Options artists.
Aaron olson-reiners & nicole Havekost
"Ambiguous Connections" was a shared exhibition between painter Aaron Olson-Reiners and three-dimensional artist Nicole Havekost. Olson-Reiners used abstract imagery and intuitive process to create his paintings that express the struggle for personal meaning and authenticity. Havekost created bodies and materials that mimic textures, colors, and surfaces of biological forms. Together, these artists' works explored ideas about personal identity, self-awareness, contradiction, and ambiguity.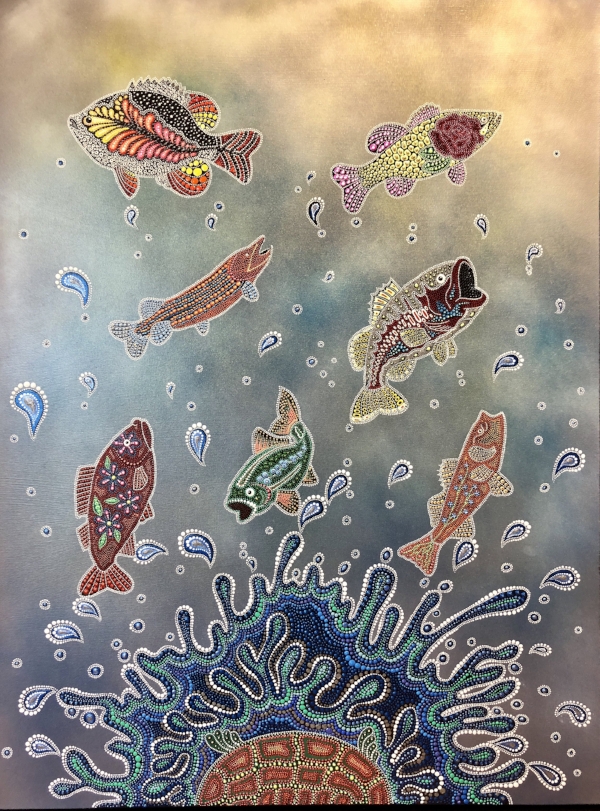 The exhibit included works by thirty-five different artists from Minnesota, North Dakota, South Dakota, and Wisconsin in two- and three- dimensional mediums. Exhibited works were selected from over 100 submissions in this annual event that celebrates variety and rewards excellence among regional artists. The juror, Pauline Sameshima, selected first, second, and third prize awards in the two- and three-dimensional categories. Guests at the opening reception also voted to select one artwork for the "Peoples' Choice Award".
2018 Winners Included:
Two-Dimensional Winners
1st Place - "Jasmine with Laurel Wreath" by Thomas Page (Oil on Canvas)
2nd Place - "Sticky Fingers" by Sue Brown Chapin (Watercolor)
3rd Place - "Gander" by Mary Myers Corwin (Pastel Chalk)
Honorable Mention - "Sunset" by Carys Church (Wax on Paper)
Three-Dimensional Winners
1st Place - "Winter Grass Out By Carrington" by Jon Offut (Blown Glass)
2nd Place - "Vessel" by Laurie Jacobi (Felted Wool)
3rd Place - "Backpack" by John Zasada (Woven Birch Bark)
Honorable Mention - "Underworld Scrolls" by Charles Evans (Wax, Paper)
People's Choice Award Winner
"Waves" by Leah Yellowbird (Acrylic on Canvas)
Pauline Sameshima (Thunder Bay, Ontario) is a Professor and Canada Research Chair in Arts Integrated Studies at Lakehead University in Ontario, Canada. Sameshima works with researchers across disciplines, using the arts as a way to research and promote conversations. She translates ideas from research she is studying into other arts modalities, hoping that in the translation, new ideas or ways of thinking emerge. Her exhibit title is a haiku; inspired by the data collected in two of her research projects: one on teacher creativity and the other on women's birthing experiences.
Marlene Wisuri (Duluth, MN) received her Bachelors degree from the College of St. Scholastica and her Masters in Fine Arts and Visual Design from University of Massachusetts- Dartmouth. Wisuri's exhibit "The Cost of Living" explores very personal themes of identity and family life. The exhibit features 20-25 works of framed origami made from her parents cancelled checks drawn on the Bovey Bank starting in the mid 1950s, as well as memory jars also made with recycled personal objects.
Joshua Wilichowski (Stillwater, MN) is the son of a Midwestern auctioneer, and thus spent most of his early life observing the intimate relationships people form with the objects around them. In his exhibit "Know It When You Know It" Wilichowski displays his intricate watercolor paintings and scupltures of aged, beat-up pickup trucks and automotive parts in order explore the relationship between masculine culture and vulnerability. He creates visual allegories that document the search for identity and worth within the submission of societal pressure.
Keith Thompson's exhibit, "Watermedia Expressions", conveys Thompson's lifelong love of drawing and Minnesota wildlife. Although he does not consider himself restricted to the title of wildlife painter, Thompson continuously revisits themes of family, travel, and wildlife to reflect his values. "Watermedia Expressions" showcases all of Thompson's most recent works in watercolor, acrylic, and oils. Keith Thompson (Grand Rapids, MN) studied art at Itasca Community College, the University of Minnesota, and Bemidji State University. Thompson has been a contributing part of Itasca County's art community since its origins.
Kimberly Benson describes her style of Dutch still life painting as a form of "chaos management." Her works come alive with noticeable texture, vibrant color, and meaningful abstraction. In her own words, Benson states that she desires to create paintings that are visually overwhelming; that play with viewer's understanding of space, form, and illusion. The exhibit "Rite of Spring" showcases paintings that are not only physically immense, but also tackle immense subjects such as mortality and trauma- some of the major concepts behind the genre of Dutch still life painting. Kimberly Benson (Minneapolis, MN) received her Bachelor of Fine Arts degree from the College of Visual Arts in St. Paul, MN. Benson went on to University of Wisconsin-Madison to fulfill her Masters of Fine Arts. She graduated in 2015 and has since been participated in a myriad of solo and group shows, exhibiting her knowledge, talent, and love for this specific genre of painting.
Jonathan Thunder's show, "New Heroes of the Old World", explores themes of identity development and introspective exploration. He explains, "My work explores identity and internal dialogue through story and characters. I depict expressive characters whose emotions and thoughts manifest viscerally in their physical form. The bodies of my subjects often appear fragmented, animalistic, or partially obscured. My art acts as the scrapbook recording an evolving identity. Through my subjects, I can exaggerate the villains and heroes that make up my self-image or the worldview as seen through my lens. My cultural identity fuses with my identity as an urban dweller. These paintings are vignettes by nature, a glimpse at a moment in a story that neither begins nor ends on the canvas." Jonathan Thunder (Duluth, MN) is a painter and digital media artist. He has attended the Institute of American Indian Arts in Santa Fe and received a Bachelor's Degree in Visual Effects and Motion Graphics from the Art Institutes International Minnesota.
Featuring Jane Latimer | May 2018
The 2018 Little Big Show will showcase over 30 unique pieces, each under one square foot in size. Many local artists will be participating in this open exhibition, including artist Jane Latimer (Grand Rapids, MN) who has provided the following statement describing the inspiration behind her work: "I have always thought painting was like music. These are songs from the places that have moved me, expressed in paint and water. I like to think that I sing with paint and brush and paper."
The annual exhibition "SIX MCKNIGHT ARTISTS", features new work by 2016 McKnight Artist Fellowship recipients Nicolas Darcourt and Sheryl McRoberts, as well as 2015 McKnight Artist Residency for Ceramic Artists recipients Kathryn Finnerty, Lung-Chieh Lin, Helen Otterson, and Joseph Pintz. This exhibition, supported by the McKnight Foundation, showcases the success of each artist's fellowship or residency.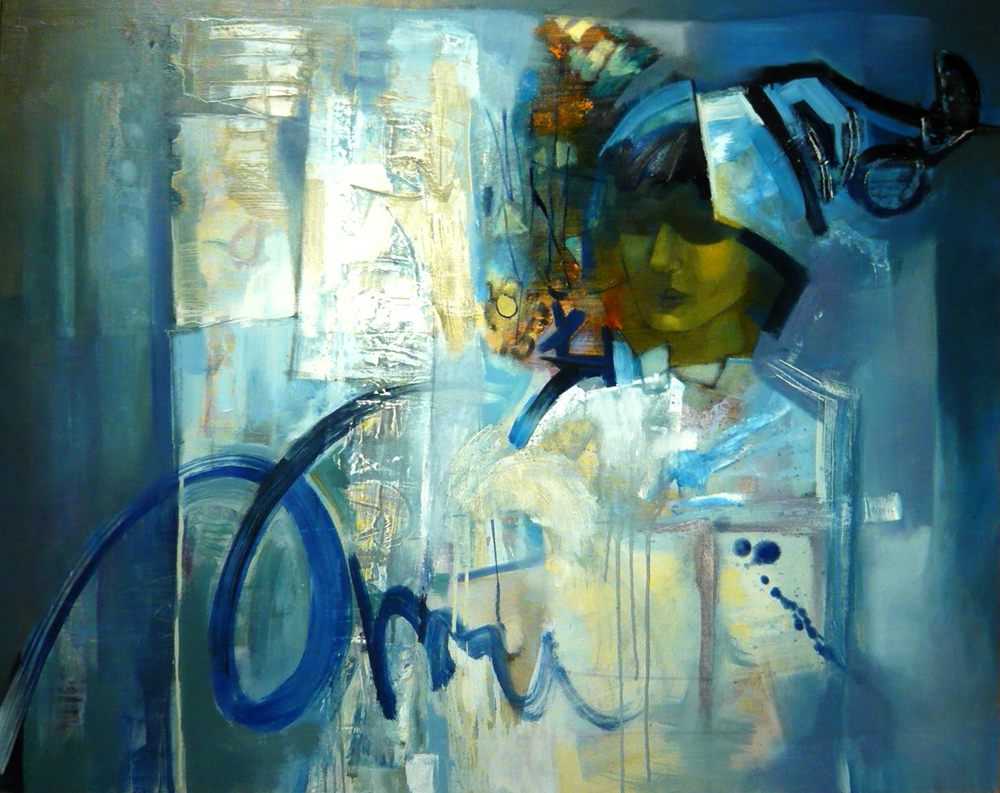 "Variations" by Natalia Himmirska, is a visual tour of the artist's history, travels, and non-linear personal growth over the past ten years. Natalia Himmirska (Bemidji, MN) was born in Moscow, Russia and and graduated with an MFA from Fine Art Faculty of the Moscow Technology Institute. Since receiving her degree she has taught in universities around the world, including Bulgaria and the United States. She later travelled to the U.S. to further her studies at the Corcoran School of Art in Washington, D.C., and Maryland Institute College of Art. All the while, Himmirska has been mastering printmaking and oil painting through creating her own work. She writes, "This exhibition that I call Variations represents crossroads on that straight line of the creative impulse. In many ways, I continue to make new works that themes and concepts which stayed with me for decades."
"Threshold" conveys artist Andrew Nordin's exploration of abstraction through the geographical and architectural theme of rural decay. Nordin describes the title of the show as representing the point in which a picture gives way to what is taken to be un-representable. In his own words, Nordin elaborates on how the etymology of the word "sublime" is key to understanding his collection of paintings. Paraphrasing from author and art critic James Elkins, Nordin says the word originally means "up to the threshold". He writes, "This, to me, is the area of painting I am investigating, and with this project, illustrating: The sublime feeling when confronted with the stark nakedness of rural decay, and how it can translate into abstract painting."
In the exhibit "Comfort & Entanglement", ceramic artist Erin Paradis examines and remembers meaningful encounters she has with what she calls "seemingly ordinary structures, spaces, and objects" in her daily life. She writes, "I experience moments of clarity in those different encounters, moments of both stimulation and provocation. Through exploring the re-occurring forms, lines, shadows, patterns, materials, and compositions that I am attracted to, I am on a constant quest to replicate the sensations I experience."
"Over the Years: A 30-Year Career Retrospective" displays the experiences artist John Kolb has culminated throughout his personal and professional life as a painter. Kolb's exhibit demonstrates the endearing, intricate, haphazard nature of relationships and experiences gathered over the course of one's daily life. He writes, "My work represents the struggle to bring meaning from interaction of materials and processes...The work looks rapidly executed, but each action is carefully studied before completion. Only when every part aids in the purpose of expression is the work finished."
Turning Tide showcases artist Jeffrey Hansen's latest textural, colorful abstract paintings. Hansen's work creates uniquely captivating imagery of abstraction that encompasses Abstract Expressionism and Color Field theories and applications. He describes his process of painting by writing, "I blend, liquefy, and texturize- applying many laters of paint; thus, transforming the paint into melty, airy, watery, textural, dreamy hints of nature. From nothing other than the colors that I have chosen, I create imagery that captures a blurry, paused-motion quality of something tangible."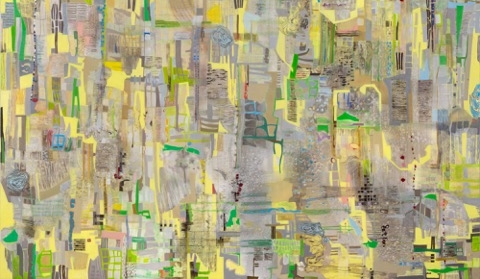 Kreft's solo exhibit conveys her belief that abstracting patterns is a process of transformation. She incorporates images of culture and nature found in her everyday experience by using inspiration from photos of both her diverse urban neighborhood and the natural landscape. These images become blueprints for her paintings. She writes, "My paintings evolve through multiple layers. Carefully painted lines are spread over an expressive and disjointed under painting to ensure a unified entity."
Anderson's exhibited work features an interpretation of the roles that adaptation and optimism play in a species' existence and evolution. These ideas are represented in functional, wool, felted rugs and hangings. She writes, "In the craft of feltmaking, my goals in were to create piecework that allows for more specific design and to make strong, sturdy pieces of functional felt. While some of the rugs tell the stories of species' adaptations and hopeful survival, others focus on the positive outcomes of my own limitations and intentional attitude about moving forward with the work."
"Birds!"is a collection of oil paintings by Duluth artist Becca Mulenburg. This exhibit showcases some of the birds that have drawn attention to her over the past few years. Each of the bird paintings stems from a personal experience, from a Yellow-rumped Warbler in Minnesota's Glendalough State Park to a Western Willet on the Gulf of Mexico. Commonly focusing on individual birds versus flocks, Ms. Mulenburg brings the viewer in to see, perhaps, a little bit of personality in the wildlife that surrounds us every day.
As an artist, one of Scott West's main concerns lays in the expression of process through a layered narrative. He does this not only through painting in front of an audience, but showing process in the paintings themselves. As he builds up a piece, West leaves areas open to reveal what is underneath, acknowledging every layer of the painting. These acknowledged layers create their own narrative. They tell the story of the artist's journey through the work. Fragments of pencil lines, paint drips, and fields of under-painting are all visible in West's best work. He leaves a map to his entire process thus creating a narrative beyond the immediate subject.
Craig Clifford attempts to transform common objects so they become more than everyday forms and images. His process includes casting functional and found objects along with a three-dimensional collage technique to transform them into rich tableaus that use color and texture to alter the perception of space and draw the viewer into a complex experience.
Gordon Coons is a mixed-media artist who displayed his woodcut prints, vibrant duct-tape images, and Ojibwa woodland art style paintings. His show, Expressions of My Journey, was inspired by Ojibwa petroglyphs, images, and stories from birch bark scrolls. These paintings are sometimes described as x-ray vision. Artists paint their subjects with heavy black outlines and what is felt or perceived to be inside to represent a kind of spirit or source of power.
Cathy Durso investigates the circular and cyclical ideas that come to mind through various configurations of painted and stitched circles on canvas in her show, Satellites. Inspired by circles of all kinds—tiny (seeds, cells, grains of sand), enormous (planets, stars, galaxies), and intangible (the circle of life, the cycle of the seasons, the rhythm of a beating heart)—her work speaks to the interconnection between all things. Her process involves a contrast between loose, energetic painting techniques and slow, meticulous hand-sewing, which keeps her paintings balanced and compelling.
"We Are All Criminals" challenges society's perception of what it means to be a criminal by turning the lens from the 1 in 4 people in the U.S. with a criminal record to the other 75% percent – those who have not been burdened with an official reminder of a past mistake. Participants tell stories of crimes they got away with. The participants are doctors and lawyers, social workers and students, retailers and retirees who consider how very different their lives could have been had they been caught. This exhibit was part of a collection of events taking place in the Grand Rapids area through the month of September 2017 that aimed to inspire empathy and ignite social change.
The Minnesota Gallery hosted a unique exhibit organized by MacRostie Art Center in collaboration with the Minnesota Department of Corrections. Individuals who are currently incarcerated and have taken art classes through the education program at the Minnesota Correctional Facility in St. Cloud were invited to submit works for exhibition.
Juror: Marva Harms, August 2017
This annual event celebrates variety and rewards excellence among regional artists from Minnesota, North Dakota, and South Dakota in both two- and three-dimensional categories. Marva Harms selected first, second, and third prize awards in the two- and three-dimensional categories and guests at the opening reception voted to select one artwork for the coveted Peoples' Choice Award.

Award Winners
1st place 2D: Tom Page
2nd place 2D: Duane Barnhart
3rd place 2D: Leslie Barlow
1st place 3D: Mary Beth Magyer
2nd place 3D: Jeremy Jones
3rd place 3D: Laurie Borggreve
People's Choice: Becca Mulenburg
Honorary Mention 2D & 3D: Cindy Stitt
Exhibiting artists included: Leslie Barlow, Duane Barnhart, Bradley Benn, Kimberly Benson, Sandra Boreen, Laurie Borggreve, Nancy Stalnaker Bundy, Dawnette Davis, David Dobbs, Constantine Dorn, Anne-Marie Erickson, Tyler Evin, Kristin Grevich, Ralph E. Hanggi Jr., Chelsey Jo Johnson, Jeremy Jones, Kelli Lien, MaryBeth Magyar, Becca Mulenburg, Jennifer Nelson, Aaron Olsen-Reiners, Tom Page, Jenae Porter, Wesley Rabey, Dawn Rossbach, Sandy Schildt, Jeremy Simonson, Stephanie Stevens, Cindy Stitt, Richard Thouin, Christine Tierney, Brittany Trushin, John Ulrich, Liz White
Pictured: Leslie Barlow
Marva Harms is a local artist and art educator who has taught art at in many school districts, art history at the college level and holds workshops in Minnesota, including her Floating Studio Workshops on Swan Lake. She has set out to capture her beloved view of the northeast corner of Swan Lake through 365 miniature paintings - one for each day of the year. So far she has completed 100 paintings. Come see her impressive progress!
"My oil paintings are created from life in the purest method of Impressionism. Color is everything. It is used to model form, dictate temperature and achieve a richness to the big, simple shapes. My work is high-key, bright and expressive."
Pictured: Sunset, Nov 13
This weaving, fiber, basketry and beadwork invitational exhibition highlights the best natural materials and talent our north woods have to offer. Exhibiting artists include:
John Zasada, Emily Derke, Nate Johnson, Cathryn Peters, Leah Yellowbird, Shannon Lucas Westrum, Eve Sumsky, Kristin Majkrzak, Susan Vann, and Dawnette Davis.
Mollie Oblinger's beguiling landscapes expose the vulnerability of the waywe undermine our natural environment with imagery plucked from her interest in animal tunnels and cellular anatomy. By exploring unique locations, in this case: the Great Basin, her work reflects a set of discoveries specific to that place.